Maria's Training & Presenting style

Maria as a Trainer and workshop facilitator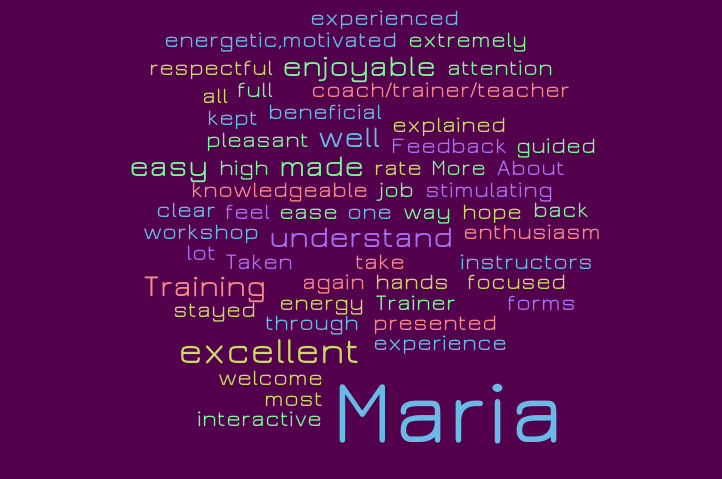 'Maria is warm and friendly'
'Maria is extremely good, motivating, enthusiastic, beautiful and helpful-gives you a sense of being important when she speaks to you directly';
'Maria is fantastic and has an amazing aura.'
'Maria, I love your personality!'
'I really liked Maria's openness, energy and passion, excellent, approachable'
'Friendly delivery, valuable, clear information, very easy to follow'
'Feeling comfortable and positive energy and interaction, felt very safe completely at ease'
'Maria is so positive and natural; her energy was electric which spread to the room'
'Maria's energy and ways of explaining was very clear and uplifting'
'Maria is confident, friendly and good humoured'
'Maria is enthusiastic and to the point'
'I enjoyed the welcoming and enjoyable atmosphere'
'Great presentation style, excellent pace'
'Excellent, would highly recommend'
'Very good, happy & light'
'Excellent & joyful'
'Excellent, couldn't ask for better'
'Very warm, clear, good explanations, Easy to learn, great visuals'
'Most informative & fun'
'Excellent and great delivery'
'Maria is excellent, confident, approachable, and easy to listen and to understand.
'Great presentation style, excellent pace'
'Excellent, would highly recommend'
'Fantastic. I would like more time with Maria'
'Maria is very informative and communicated very well'
'Excellent, learned a lot, gave good advice, very clear presentation'
More About Maria as a Trainer – Taken from  Training Feedback forms.
'Maria is very easy to understand and stayed focused'
'Maria  is a very energetic,motivated , respectful coach/trainer/teacher'
'Very clear, guided workshop well. A lot to take in but presented in an easy way to understand'
' Maria did an excellent job. Very interactive and hands on'
'the energy and enthusiasm is stimulating. Maria is very knowledgeable'
'made to feel very welcome, at ease, very enjoyable'
' Maria is excellent, explained very well'
'Maria is one of the most pleasant instructors I have experienced'
'Excellent. Maria made the experience very enjoyable and beneficial'
'I rate Maria extremely high'
'hope Maria is back again'
'I kept my full attention all through the training, my mind never wandered'