Sunday Independent January 24 2016 
many of the techniques Maria gave me are aimed at creating an overall calmer persona in the workplace says Liadan.  Read the full article.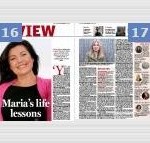 "Maria's  life lessons in assertiveness " Liadan Hynes undertook an assertiveness training course with life coach Maria Jose Lynch and ended up with a complete lesson in life skills.
View PDF files: