See below a selection of testimonials related to Maria's Assertiveness Training taken from Media, Corporate Training, One-to-ones and Workshops.
Sunday Independent Article
many of the techniques Maria gave me are aimed at creating an overall calmer persona in the workplace says Liadan.  Read the full article.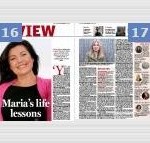 "Maria's  life lessons in assertiveness " Liadan Hynes undertook an assertiveness training course with life coach Maria Jose Lynch and ended up with a complete lesson in life skills.
One -to-One Assertiveness Training 
I found Maria to be wonderful and warm. She is very intuitive which made me feel more comfortable explaining my circumstance. Maria helped me to change my mindset from utter shaking fear to an assertive mind to stand up for myself. I enjoyed my sessions with Maria  and I feel empowered now. I would have no hesitation recommending Maria.

Helen. One-to-one assertiveness training.
Confidence & Assertiveness Skills Training
Maria is an excellent confidence trainer and provided me with practical tools to improve my confidence and assertiveness. Orla. Executive Assistant.
This was a wonderful session and you Maria are a powerful advertisement for embracing confidence/assertiveness-loved it !! Fiona.Account Manager. Pharma Industry.
I feel energised and empowered and armed with very practical people skills to assist me in conflict type situations. I found it a really rewarding day. Thanks you Maria! Mary- Claire.Solicitor.
It gave me greater insight into my authentic self and how to be assertive in terms of what i want and i don't want. Aoife. HR.
I left today having the tools to practice and the knowledge and confidence to apply these tools. Gemma. Service Advisor.
Good day. Worth coming. Phil. Sales manager.
Thank you so much Maria for today and doing what you 'do'. You are a fantastic teacher reaching out to everyone regardless of where they are on their life  journey. Monica. Nurse.
You have an excellent way of presenting material and I appreciated the way you brought simple teaching aids (magic wand and plugs!), got us doing work in pairs and had us walking like queens.I believe I have come away with many good, relevant and usable skills for managing the many situations of potential strife and conflict in life! You made it possible to say "no" and yet leave both parties with something real to hold on to – a great skill! Thank you.
For me the most wonderful aspect of the whole day was YOU…………your brightness, vibrancy, life giving energy, knowledge of your topics, superb teaching skills and genuine kindness were such gracious gifts! Wow! Sheila Devane, Doctor of Clinical Psychology Lecturer & Trainer
I thoroughly enjoyed the training, your approach, your ability to put as at ease. Found this workshop the best of all I've attended with the Enterprise Board. Carmel
Maria's upbeat, enthusiastic personality and sunny disposition made me enjoyed the training. Learned from assertiveness role-plays and the compassion traps I fall into. Geraldine.
Maria I just love your passion for what you do and you have helped me lots. Elaine.
I loved the workshop. I have learned a lot about myself and others. I would recommend this workshop to others. Grainne. Psychotherapist.
Very interactive, very informative, cannot believe I learned so much in one day-Thank you so much Maria. Karen. Clerical Officer.
Maria has a fantastic way of connecting with each person in the group and calling out specific information relevant to each person. Ann-Marie. Account Director.
Maria was very knowledgeable and enthusiastic which made the course enjoyable and help us learn a lot from her.
Excellent rapport built with group. Kept interesting throughout the day.
The course was really helpful and extremely enjoyable. Liz. Psychotherapist.
Maria is an energetic,engaging speaker. Keen to get the group participation. Keep group attention throughout.
Very useful and practical tips. Excellent overall. Thank you Maria! Gemma. Teacher.
This course has made me more aware and conscious of all involved with being assertive, allowing myself to be fine without constantly questioning myself. Eileen. Clinical nurse manager.
The role playing exercises where very useful. Carol. PA to MD.
Maria was so helpful both to the group and individually. I will take so much away from this group. I will google for more of her courses.Great Trainer. Katherine. Executive Assistant.
I did not expect the day to be so powerful. I helped greatly to share and practice with others. Techniques used were great as was the delivery. Maria is powerful as a source of inspiration. Jean. Teacher.
Maria is a very good mentor. She takes the time for everyone and brings the subject over very well. I have learned a lot today and it will help me in a good way at my work. Ute. Accounting Technician.
I learned today that non verbal communication and body language are often more important than verbal content. Maria was a brilliant presenter-really suited to her job and passionate and vibrant and energising in delivering of this topic. Margaret. Public Health Nurse.
Maria was excellent and lovely group. Wonderful material. Gemma. IT Manager.
I feel I have learned new skills which I intend to put into practice especially in my work. Eileen.
The day was a wonderful opportunity for time out to reflect on how to respond and act differently in the workplace. It taught skills which give me a sense i can change things. it was well balanced and structured with inputs,practice exercises and chances to share. A lovely calm venue also helped me to relax and made the day very enjoyable. Mary. Lecturer & Administrator.
Maria managed to give everyone 1-2-1 attention in a group setting. very enlightening course, wonderful teacher. Aoife. Project Manager.
Assertiveness Training
Confidence & Assertiveness Courses
It was a great day. I feel better equipped to deal with the day to day work situations as they come up. it is great to get an insight into how others deal with work/life situations that are similar. Louise.
I enjoyed this workshop as the exercises were simple yet practical. They helped me gain insight into my mannerisms and communication style so I can learn to communicate more effectively and appropriately. Mary. Property Management.
I feel I may not be completely ready but this course has opened my eyes to ways I am capable of being assertive. Eimear. Customer Service.
Greater awareness of what assertiveness means and tips to put into use e.g. boundaries, energy management,tone of voice, etc. Mairead.
Library Assistant.Excellent  course. Very insightful and will be useful in my own approach to assertiveness. Very relaxing day. Thank you. Nichola. Teacher.
Effective techniques to inspire confidence and assertiveness. Bernadette. Office Manager.
Feel very confident on handling difficult situations. Anne. Self -employed.
I have learned so much from this course and I would recommend anyone to take part , there is always something else to become aware of self. Kaye. Healer.I learned Tips for situations at work and at home and to be assertive. Eileen. Cancer Unit Manager.
Well run workshop. Will make changes to my life as a result. Mark. Student.Maria is like a beacon. She glows with energy and knows exactly the right words to say. I look forward to other courses. I learned a lot. Veronica.
I got comradeship with the other participants. I got a very detailed and informed practice and discussion around boundaries,personal space, how to say no.Today was the start of the new me. Thank you so much Maria. Ann. Trainee Project Work.
It is a process that needs to be practised in order to feel confident. Very beneficial and enjoyable.Would highly recommend it. Maryse.
I've learned how to communicate with people, how important it is to have the correct posture when you want to express yourself and I won't be afraid to say no. Magdalena. Beauty Therapist.
I enjoyed the workshop. I found it very informative and beneficial. Fiona
A very practical and insightful day that has given me a clear and simple set of tools to  communicate more effectively. Brian. Retail Management.
I really enjoyed today. There was a lot of positive things I learned today. It was very energising and great bunch of people and teacher.THANK YOU MARIA. Marie. Civil Servant.
It is o.k. to disagree and express my opinion or truth fearlessly-matter of fact. Paula. Artist.
Feedback from Maria and others in the group exercises  was excellent. Tips and  strategies about how to have assertive conversations. Loved power pose!
I feel more confident in dealing with my superiors. I have learnt to stay grounded and not to react straight away. Karen. Bank Customer Service.
This course has empowered me to be assertive without being aggressive or too passive. Siobhan. Teacher.
It was an absolutely excellent course. I now feel extremely confident in asserting my own needs and communicating them in an effective way! I left at the end of the day with so much energy giving myself the permission to be myself from now on! Elena. Guidance Counsellor
Very informative and great presentation skills. Would highly recommend it. Aoife. Administrator.
Saying NO and STOP felt good( in the past I would have felt poor inside) Helen. Actuary.
The practical exercises were very helpful in bringing all the skills together. Rhona. Psychologist.
I learned How to be firm without being aggressive. Enda. Builder.
Maria, you are a fantastic role model. I will remember your presence, non-verbal, verbal, facial expressions when demonstrating assertive behaviour. Thank you so much. Madeline.
I have always been unclear as to how to be assertive . This course has given me the clarity. I can put the tools/tips learnt today to immediate use. Sharon. Accountant.
Well prepared workshop with like minded people. Maria is fantastic at reading people. Marion. Accounts Manager.
Excellent and very informative course. Susan. Nurse.
Having practised being assertive in role plays during workshop I feel more able to be assertive in the real world. Eileen. Social Worker.
Fantastic eye opener to improving your confidence when dealing with uncomfortable conversations. Katherine. Sales.
The course was a great eye opener and Maria was very helpful. John. IT Analyst.
Maria is amazing! So welcoming, observes everything, even how you move your hands or breathe. She helps you to be more aware of what other people see. Thank you Maria. Audrey. Office Co-coordinator.
Great interactive workshop. Came away with a very clear understanding of what is it to behave in an assertive way. Maria is a great facilitator and teacher. Phil. Teacher.
Thank you for your energy and enthusiasm. Awareness of how I am in conflict situations: body language matching facial expressions and words. Mary. Counsellor/Psychotherapist.
This course exceeded my expectations, very professional and I couldn't be happier with the day. Maria is a super teacher and I love her passion. Garry. IT.
Skills to practice and use in daily life. Be more self aware. Nuala. Accountant.
I gained a better understanding as to what  assertiveness is and how it is linked to personal confidence. Maria. Content Creator.
Good feedback and tips on how I present myself and ways to do so more confidently. Amy. Customer Service Advisor.
I got a sense of hope that I can handle a difficult situation at work in a confident, effective way regardless of the outcome. Maura. Civil Servant.
Awareness that I am not alone and that  I can choose to change. I really enjoyed the course and the people I  met. Lorraine. Teacher.
A wonderful enlightening experience with Maria. Highly recommend the course for future self-development. Rosie. Consultant.
Maria continues to provide inspirational guidance. Her instruction in awareness is providing me with the skills to successfully tackle situations that seemed challenging in the past. Fiona.
I learned a valuable skill that will stay with me all my life. It's a new beginning for me. Not having been in groups for years and years-the fact that I'm here and stayed is testimonial to yourself Maria and the way you conducted the course. Keep the great work. Thank you for  a lesson in life. Mary.
Assertiveness is a skill that can be learned over time with practice. It is a healthy way of interacting with other. Geraldine. Compliance Specialist.
Learned that people can perceive an individual in different ways. We need to have conviction in how we do things to get our points across. James. Supply Chain Manager.
I enjoyed the opportunities to be able to practise the skills involved in being assertive-it was a very interactive,practical, solution-focused workshops. The group element was reassuring and supportive. Claire. Teacher.
The course was very beneficial. It was great to realise many others have the same feelings and stories as me. I feel that I now  have a plan to overcome confidence  and assertiveness issues at work-or at least start! Elaine. Pharmacist.
More self-awareness. Course was well taught and very informative. Lucia. Admin Assistant.
Appreciation that others share similar issues. Eoghan. IT.
I really enjoyed the workshop and it was great to meet like minded people and realise you are not the only one who can often lack assertiveness. You have great energy and enthusiasm. The experience was thoroughly enjoyable. I am looking forward to seeing how I get on this week following the workshop. So rather than dwell on the worries I often have on a Monday morning, instead I am going to focus on the tools that I have learnt. Aisling. PR.
Thanks for a fun and engaging course and for the safe environment you created. Looking forward to putting tips into practice! Kate. Finance.
I need to be more unemotional when dealing with confrontation and keep things factual and concise. Kieran. Engineer.
I got  a very good comprehensive look at all the different areas of being assertive. Probably to convey what I have to say to others matters and not to be apologetic. Try and leave emotions out of it to get a more assertive aspect to the point I am trying to make. Paul. Farmer.
I found role plays very helpful. Today has helped my confidence and reminded me that I should protect my rights/desires more. Sorcha. Teacher.
Increased understanding of the power of body language and the need to "go back to my core of steel" Thanks you. Donna. Occupational Therapist
Great, positive energy, clear information, lots of fun, good tips for practising assertiveness. Agnes. Sales Assistant.
Great day learning tips and tools to help me in my professional and personal relationships-sit tall!! Meabh. Accountant.
Great workshop. Left feeling very positive and excited to face the world. Maria has brilliant energy. Sarah
I really enjoyed the workshop. Maria delivers the workshop with wonderful energy and enthusiasm. Her facilitating skills were very authentic and genuine. I would definitely like to do further workshops with her as I enjoyed the focus being on energy. Ciara
Practical and useful advice and information, opportunity to practice skills learned. Overall very beneficial and I'd highly recommend it. Katie
Thoroughly enjoyable and helpful. Thanks you very much Maria. Birgit.
The workshop has provided me  wit the insights, tips and techniques to enable me to become more assertive and the confidence to take on this journey. Barbara
Really helpful group exercises. Clear and concise.Time went very fast. Maria is very passionate in her teaching. Breda.
I would come to Maria to do another course. Clare.
Great day. really enjoyed it. I feel so much more grounded. Adrienne.
This workshop is empowering. Maria is very professional. She knows her topic and communicates it effectively with fun, music and warmth. Megan.
New found sense of assertiveness not evident from reading or watching videos. David. Manager Engineer.
Very good course-practices were good and useful. Maria is very good at putting people at ease. Anne Marie. Customer Care Representative.
I wish I had completed this training years ago. The practical skills learned will help me in real life situations. Mairead. Physiotherapist.
Maria your course was amazing, an abc guide to assertiveness, in a fun environment. One leaves feeling empowered, thank you! Laura. Teacher.
The group interaction and exercises were excellent. Anne.
Maria was so warm and helpful. Her insights and exercises made assertiveness feel doable! Thank you Maria! I am ready to try out my new skills! Abby. Student.
Thank you Maria. I found your course very helpful. I am more aware and I feel I have the tools/skills to be more assertive. Emma. Primary School Teacher.
Maria is a good and professional coach. Good group and good feedback  about me. Adriana. Childcare worker.
I feel more confident on my abilities on how to express myself. Aisling. Analytical Scientist.
Enjoyable course. Maria is very friendly in her approach. I learned good tips for everyday life. Deirdre. Teacher.
I got a lot of advice on body language, avoiding coming across as aggressive and how to be assertive in certain situations. The course was excellent and the day flew.Thank you! Andrea. Primary School Teacher.
Really pleasant day with like minded friendly people. Maria gives a lot of specific advice to each individual which ensures benefit for all, great day had by everyone. Claire. Student.
I really enjoyed the training session and would 100% recommend it. The content was really interesting and it provided knowledge that can be used in the workplace everyday.A great day, highly interactive and valuable, a good foundation to build upon. Philomena. Finance Manager
Maria is a very clear , concise presenter. The interaction and role play during the day was excellent. Patricia. Accountant.
Maria was lovely. She seemed to keep everyone interested for the duration of the training. It was interactive too but not in a way that made people uncomfortable which is difficult to do I think! Charlene.
A concise toolkit on how to improve my assertiveness, Richard. Accountant
This was a very worthwhile course, I really enjoyed it and look forward to seeing some positive changes.It was a great day.it has made me become more  self aware and understand how others could perceive me. Maria has given me some great tips that i can practice for the future. Sabina. Accountant
Thank you very much for arranging and including me,  I would certainly highly recommend this course to my colleagues. Attracta
The course this morning was very good and I think it will be helpful. The presenter (Maria) was a great communicator and made it interesting so I would recommend it to others. Paul
Just wanted to say that I really enjoyed the training session.It has already benefited a couple of members on my team.Lets just say the timing was great and they took on board what you said regarding ' just because you think it, doesn't make it fact' & how some people can unknowingly project their own insecurities onto others.And how to be assertive but taking time to compose yourself in certain situations.Thanks very much. Rachel
This was Excellent! I learnt skills that will help me do my job better and help me cope with situations I find difficult.This course has helped me to do the excellent work I am capable of but wasn't able to do because I lacked the confidence to put my ideas into action. Seeing results is a confidence booster but the satisfaction personally to realise that I am doing so well is fantastic. Maura
Brilliant course loaded with useful real-world tools.I loved the day. Maria's consistent positivity throughout was contagious. I learned a lot through the physical exercises and recognising my own traits. Great starting point to work on building my assertiveness skills further. Louise
Maria is an excellent tutor friendly and open and very knowledgeable and gave the tools for me to use in my workplace. Valerie
I learned that in order to be assertive and conduct a conversation in an assertive manner you must stick to the facts. Sarah-Jane
Real manageable tools to bring in everyday. Thank you.
I really enjoyed the day and will take the lessons learned into practice. Una
Thank you for this interesting and educational workshop. Looking forward to trying out the techniques. Clare
I learned that I already had the tools to be confident.I just needed guidance in how to exercise same. Yvonne
Thought provoking.Normally courses encourage you to diffuse or dilute an issue. This empowers you to face it head on, Aideen
I received valuable tools today to enable me to be more assertive in my job and personal life. Thank you Maria. Noelle
It validated the need to mind ourselves and take control of living a happy and fulfilling life without aggression, abuse or negative influences. Alice
Helpful, practical exercises that are easy to practice at home. Enthusiastic presentation and a warm and welcoming atmosphere.Very positive. Tara
Came in feeling like a chipmunk, left feeling like King Kong! Michael
Being me all the time. We get so busy at work and with friends that we forget ourselves. Speak up, that's what I will do. Being me. Jose
Today for the first time ever I felt the power that I possess and I will hopefully draw on this in times of adversity. Mary
Enjoyed input from Maria and group sharing. Enjoyed experience. Anon
I have learned today that I am not on my own, others think like me – my mind overthinks when I am not grounded. Theresa
This workshop will help you recognise what's wrong with your behaviour in terms of being assertive. Pawel
This workshop generates so much food for thought and self-reflection because it forces you to embody and express what you find self-limiting – well worth the time spent! Trish
Practical tips and guidance to help navigate day to day interactions. Pauline
[I learnt] how to stand up for yourself. Deirdre
Maria brings great energy and enthusiasm to the day, which makes it easy to learn and to participate. Colin
This meeting helped me to deal with difficult staff which happened to me and it is like a gate which opened to me. Agata
Very enjoyable course. Sandra
Great workshop for all! I will take away new skills to use in everyday life! Gillian
A high energy, warm and peer-led session that somehow offers something to everyone. I have some solid takeaways from this session and highly recommend it. Kelly Marie
I enjoyed the 'if I say yes or no' activity. It helped me be clear about my feelings and thoughts. Roisin
I feel completely uplifted, renewed in myself and I am looking forward to applying this workshop into my work and personal life. I will become more assertive and manage my boundaries. Also [I learned] how I can become a more approachable person. Lynda
I really think that putting myself first in situations is okay (I never thought that before). Leontia 
Testimonials from Annual Executive PA, Secretary & Admin Forum Assertiveness Training

Maria is honest and real in her presentation and clearly wants us to receive the skills she teaches so we do change and become more assertive. We built upon the skills of body posture, facial, tone, and understanding the importance and effect of these individual elements. Excellent speaker – she cares about her work and the participants. Tracey
I really enjoyed this workshop and it was very relevant to me on a daily basis. I will take a lot of positives from it. Sinead
Delivered in a very positive manner. Not only did we get a 'heart' to bring home, but lots of practical tips. Maria is an excellent tutor. The group was also very interactive and all worked – a most enjoyable morning. Eileen
Really enjoyed Maria's workshop – some great points to take away. Michelle
Very enjoyable and engaging. Fiona
I learned a lot about assertiveness being a 'skill' and will take back to the workplace what I have learned. This was very good and helpful. Sandra
Maria is an exceptional facilitator. Her positive energy and engaging bubbly personality made the workshop even more interesting. I have taken away very useful tips. Julie
Thoroughly engaging, insightful and informative. Maria was a wonderful facilitator and would be hoping to attend her workshops/seminars. Brought a realistic perspective to the morning and would love it to be longer. Alex
Very enjoyable workshop. Jane
Very interesting and uplifting. I learned tools and techniques which will help in the workplace, Maria is warm and inspiring. I really enjoyed! Thanks.Christine
Super content. Maria has the ability to read 'potential' situations so her course is relevant to a wide range/type of person. Ann
Maria was extremely helpful, with practical tips and exercises. Very enjoyable and learned a lot. Ruth
Certainly been given confidence and recommend the course highly. Róisin
I found this course very beneficial. Mary
Maria was completely engaging. I loved the interactivity of this workshop. Michelle
Course is helpful and makes you more aware of situations. Amanda, Accountant
A well presented workshop, with a variety of interactive settings. It was very helpful, partly by the repetitive exercises and the positive reinforcements by Maria. Anon
This course gave me the tools necessary to build on to become more assertive. I feel that I can use them in my day-to-day life. Maria was very nice and made me feel safe and that I could share within the workshop. I would recommend it for people who need help with building confidence in being assertive. Emma, Hospitality
This course was practical, empowering and insporing. Maria is an excellent teacher. I would highly recommend her courses. Elaine, Teacher
The course was different from what I expected but in a positive way. It helps you to start on the path of self-awareness, your boundaries and confidence. Diana
Fast-paced and energetic course. Maria makes you feel comfrotable enough in a group environment to interact and really explore what it is to be assertive. Ema, PM
This is a spa day for the soul and mind, highly recommended for those wanting to connect with their true self. Tania, Recruiter
A very 'hands-on' practical approach to assertiveness and boundaries, gives lots of skills to build on in the future. Roisin
I really enjoyed the day. Maria was a very engaging and motivating speaker and I learnt really important skills in how to assert myself in difficult situations. The practical activites were very useful also. Aine, Speech & Language Therapist
A great experiential course in a safe environment. Gemma, Communications
This course is an excellent resource for anyone who would like to enhance their skills of assertiveness in both professional and personal relatsipnships. This subsequently will enhance the confidence levels of attendee. Aoife, Clinical Nurse Manager
Words participants used to describe Maria's Confidence & Assertiveness workshop:
Excellent, Energising, Brilliant!,Fantastic, Energy, Very helpful, Positive, Encouragement, Educational, Inspiring, Interesting, Real, Practical, Motivation, Fun, Motivating, Excellent!, Relevant, safe , Very good and Informative, Enlightening and empowering, Great, Would recommend to others, Interesting, Very informative, Very enjoyable, Helpful,Uplifting, Energising, Confidence-instilling, Challenging and Empowering, Encouraging, Empowering, Super Skills, Positive Personal Experience, Invigorating, Energising, Interactive, Positive, Affirming, Good start towards becoming a better comunicator, Powerful, Thought provoking, Enjoyable, friendly,  useful, tactical skills for life,unexpected approach, loved the practical exercises, very informative, Excellent and really useful, very good delivery, huge learning, very interesting,Friendly, very valuable life skills, well organised,Inspiring, fantastic,helpful tools to take away and practice, great opportunity to look honestly at how I am operating in the world,Excellent day, well planned and energetic,Fantastic and life changing .