With a badly dressed woman people will remember her clothes. With a well dressed woman, people will remember the  woman.Coco Chanel

How many times we look at our wardrobe every morning and say 'I have nothing to wear'?
In a Style consultation you will know how to dress for your body shape and scale, how to accessorize to revamp an outfit , what to wear to enhance or camouflage parts of your body, how to mix and match outfits and much more
 . Notes with tips for your body shape and advice on how to build a capsule wardrobe to give you clear examples on  what to buy for your shape, all included in the fee.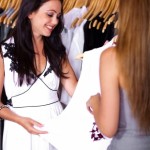 One-to-One Appointments : 21A Lea Road, Sandymount, Dublin 4
For more information  contact Maria on 087-2794346. Testimonials.
Contact us for gift vouchers and group discounts for up to 4 friends attending together .