This is an excerpt from "Energy EFT – Energize Your Life"

© Dr S Hartmann 2012. All Rights Reserved.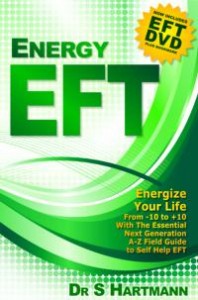 EFT Emotional Freedom Techniques is a wonderfully simple and likewise, immensely profound method to remove blockages to success, health and happiness in our lives and to quite literally, re-energize us so we have the energy, the power, the inspiration we need.
Over the last 15 years, millions of people from all around the world, from all walks of life, old and young alike have found EFT to be a reliable, easy way to help themselves and others with problems of all kinds in a whole new way.
This new way really is a new way.
EFT may be using energy points and places that have been talked and written about for at least ten thousand years, but the way in which we apply modern EFT is something that has never been done in the history of humanity before.
In this way, EFT opens the doors to experiences we have never had before and this is tremendously exciting.
When we apply EFT to our problems, not only do the problems go away, but there is more. We learn that we can become energized; that where there was fear, now there is courage and pride; where there was sadness and grief, now there is the freedom; and where there was anger and hatred, there can be love.
There is still more to it – when our emotions change, so do our thoughts and our bodies, as well.
When we feel energized, powerful and happy, our thinking becomes clearer, more logical; we gain access to the powers of our mind.
Likewise, when we are energized, our bodies become happier; they feel stronger, healthier, lighter and younger, too.
After all these years and all these experiences, it is still most wonderful to consider that so many good things can come from something as simple as EFT. All we have to do is to remove energy blockages from our energy body, and then go on to improve the flow of energy even further, and we really do become more energized in every sense of the word.
What is also wonderful about EFT and what sets it apart from the ancient forms of emotional control through energy work is that EFT is so personal for each one of us.
Instead of having to think and meditate on "off the peg" ideas or stand in a row to think the same thoughts and do the same movements as everyone else, we get to work with our own individual problems and challenges instead.
We get to choose what we want to treat, what we want to deal with; we get to have our say what we want out of life at last.
Each one of us is highly individual.
We were born all different to start with, and then our life experiences went on to shape us, make us more and more different with each day that passed, with each experience – good and bad alike – that was had.
So it stands to reason that each one of us has our own challenges, and our own order and sequence in which to approach these challenges as we go through life.
We can use EFT at any time, anywhere we go; and therefore, we can treat the daily upsets and the "stuff" that happens on an ongoing basis, again highly personalised, as and when we need it.
EFT is quite literally in your own hands.
There are many wonderful aspects to the practice of EFT; that we start understand ourselves better and as a result, gain a better relationship with ourselves in the process is high on the list of benefits.