Colour & Style Testimonials
The workshop was affirming with the right amount of challenge in a newly formed group. Maria's compassionate but authorative style inspired confidence. Moira.
I had done this workshop before and each time I learn new tips in how to dress for my  maximum potential and carry myself with more confidence. A truly amazing day out for myself ! Siobhan. Teacher.

 Maria is very genuine and inmediately set my mind at ease. Women on the course very supporive so coming away feeling very good. Siobhan. Administrator and Housewife.
I found the course content excellent. Maria you came across as proffessional, aproachable, helpful with the group and giving individual comments and style tips. Thank you very much. Marie. Ofiice Administrator.
I learnt a lot from other people in the group and Maria's interaction with them also. Helping me to identify my body shape and the things I should focus/not focus on. Caroline. Stay at home mum.
The course has given me loads of tips about how to make the most of my body shape. I really enjoyed the day. Madeleine. Quality Manager.
An engaging workshop by Maria. I am leaving today walking 2 inches taller! Thank you. Jacqui. Wedding Planner.
Maria is an excellent teacher, a brilliant communicator and makes you feel great! Valerie. Director of Services.
Makes you aware of what is worng with your outfit and why. Less overwhelmed shopping. Aisling. Engineer.
I have learnt what body shape I have and type of clothes that suit my body shape. Rosemary.
Had a great time Maria. Fantastic, informative presentation. Will look at my wardrobe very different. Thanks you for your opinion and all the information. Sarah. Assistant Staff officer.
Maria was very good and I would recommend. Aine. Civil Servant.
Good tips for everyday dressing given by Maria, very interesting. Vanessa. Office Staff.
Informative session about my style. I learned lots of new information for my shopping trip to Las Vegas! Sarah. Administrator.
I really enjoyed the evening. Helpful and Fun. Thank you very much. Laura.
Very pleasant evening. Maria was very good at advising re. body shape and scale. I know now what not to go for. I never knew to go for structured blazers and have confidence now to go shopping myself. Mary. Public Servant.
 Found it most informative with great tips on how to make the most of body shape and  scale. Arlene. Local authority Officer.
Maria was very informative and knowledgeable. I really enjoyed it. Joanne. Inspector.

Great and informative, lots of useful information. Michelle.

Excellent.  I learned about size, and what accessories, bags, shoes, etc that go with my size. Kathy. Administrator.
 Very Informative. I really enjoyed the evening and the presentation. Kate. Staff Officer.

Very helpful. Interesting on accessories sizes to wear, tips on body shape -helpful for future purchases. Stephanie.

Maria has excellent communication and interpersonal skills and inspires her group to make feasible changes.Estupendo! Muchas gracias Maria! Geraldine.
A fun day. Maria was fantastic and I learned so much about my body shape. I would highly recommend it. A nourishing day. Kay.
Very informative workshop. Maria gave very good individual attention as well as group interaction. Mary.
Thoroughly enjoyed today's class.I learned a lot of very useful style ideas. Thank you! Jennifer.
Maria has a wonderful warm energy and is so inspiring and uplifting. The course is full of ideas for changing the way I dress. Pauline.
I love Maria's honesty and energy! Mary.
Maria's mix of humour, honesty and advice always make for a great day. Louise.

Colour, Style & Confidence workshop.

Really enjoyed the course. Maria really worked hard to make our day so enjoyable. I feel so much more confident around Colours and how to use them. Christina.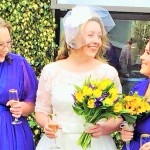 " My bridesmaids and I had a private consultation with Maria before my wedding in March. Maria was excellent. She advised us on colours for dresses, make up etc and I was so happy with the colours on the day.  It was also a fun day out for us and was a lovely build up to the big day.  I now have my little colour chart which I bring shopping with me and this makes shopping so much easier.  Maria is lovely, funny and very experienced. I would highly recommend her to brides to be!"  Liz Ormond.
 Words participants use to describe Maria's Colour and Style Workshops
Words participants used to describe the day: eye opening!, warm, gentle challenge, Empowering and useful, food for thought, energetic, engrossing, very enjoyable, good tips, fantastic day i learnt so much, fun, great, Very informative,relaxing, Inspiring, Enlightening, Maria is very approachable, very good,enjoyable and interesting, Style tips, Changing, Brilliant, Wanting More, Very helpful, Enjoyable, Excellent,Eye Opener, Entertaining,Good advice, Interesting, Very good, Enjoyable.