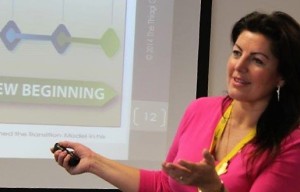 Maria is passionate about Training delivering topics with excellence and consistent results with every company she has worked with in Ireland and abroad. Maria's approachable and down to earth training style helps to create a dynamic, interactive and engaging learning environment no matter how challenging the topic in question. View Training recommendations. View all Testimonials.
See below examples  of Training and Group Facilitation topics delivered by Maria Lynch. All content will be tailored to your training needs.
Building Personal Resilience and Mental Agility

Maximising Personal Impact and Personal Effectiveness

Confidence Building Ad-hoc Training Programmes

The Anatomy of Personality: Introduction to Personality Types.
Strategies for building confidence and a strong sense of self Interactive Talks
Building Personal Resilience Interactive Talks
Energy Booster and Vitality  Interactive Talks
Maximising presence and visibility Interactive Talks
EFT – Emotional Freedom Techniques  self-help workshops and talks for stress relief and energy boost
Living Corporate Values – Group Facilitation
Performance Management – Group Facilitation
High Performance Strategies and Mindset – Group Facilitation
Creative Brainstorming – Group Facilitation
Contact us for more information on Corporate Courses and  Group facilitation tailored to your company needs.
Do you want new ideas for Talks or Team Building  Sessions? Do you want a Motivational Talk for your staff ?
Check out our  Colour Corporate Talks & Style Corporate Talks , Colour Psychology Talks, Energy Booster and Vitality sessions.Visit Workshops for more ideas and for information on 1 day workshops and courses that could be tailored to your company needs . Check out Maria's one to one work.
Meet your Trainer
I am passionate about Learning, Training and Development. My style as a trainer is hands-on, personable and high energy to encourage active participation and involvement.

 


I provide a safe training environment suitable for learning while keeping you alert, energised and focused on the training topic at all times.

I am dedicated and committed to my business and as a corporate client and as a participant  you will benefit from a personalised approach aimed at getting the results you want. Maria 
Email Maria for more information on talks, workshops, half day and full day trainings.
"The Irish Sports Council utilize the services of Maria Lynch (MJL) for a variety of training and executive coaching interventions. Maria is an exceptionally talented consultant and we have received excellent feedback on her work from all our client sporting organizations. She is reliable, diligent and trustworthy. I would have no hesitation in recommending her to a 3rd party."

Alan O Hare – HR & Corporate Services Manager
Interactive Training Sessions
Maria has extensive experience delivering Interactive Training sessions to diverse audiences.
Her aim is to keep participants engaged at all times delivering training programmes that are creative, high energy and fun to take part in. Training comes alive and learning becomes engaging providing long lasting results.
Picture Gallery